7 Downloadable Worship Videos (FREE!!)
7 Downloadable Worship Videos (FREE!!)
Check out these seven worship videos that are perfect to play in your services! Each video is a collaboration between  Salvationist James Allen (music arrangement)  and the Western Territorial MultiMedia Department (Media production)
1. Great is The Faithfulness
http://sadropbox.com/dropbox.nsf/Media.xsp?action=openDocument&documentId=6032E30210B7250188257C7000816151
2. In The Love of Jesus
http://sadropbox.com/dropbox.nsf/Media.xsp?action=openDocument&documentId=F5D03C88E54B249F88257C0800711FA3
3. I'm In His Hands
http://sadropbox.com/dropbox.nsf/Media.xsp?action=openDocument&documentId=9A7BCD4B740FE93D88257C08007014E2
4. Amazing Grace
http://sadropbox.com/dropbox.nsf/Media.xsp?action=openDocument&documentId=E6F27E3A9FF6037E88257C7000744DA5
5. Give Thanks
http://sadropbox.com/dropbox.nsf/Media.xsp?action=openDocument&documentId=7F1FF713EE2FF88788257C67006BEFCF
6. Away in a Manger
http://sadropbox.com/dropbox.nsf/Media.xsp?action=openDocument&documentId=1FFABE942F9218B888257C1600552CA0
7. Silent Night
http://sadropbox.com/dropbox.nsf/Media.xsp?action=openDocument&documentId=168113B92BD07C7A88257C16005596B4
RELATED POSTS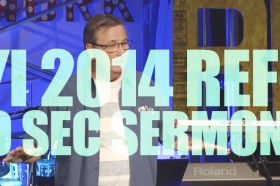 50 Sec Sermon 2 WYI 2014
Here's another Sermon Clip from WYI 2014 REFINE! This one's from our very own Commissioner Jim Knaggs!
Refine – Blogging from where it's all happening 3
Yesterday began with looking at Solomon's life – his pursuits of every meaningless path to find a meaningful life, and ended looking at our own pursuits versus pursuing God. Co...