7 Downloadable Worship Videos (FREE!!)
7 Downloadable Worship Videos (FREE!!)
Check out these seven worship videos that are perfect to play in your services! Each video is a collaboration between  Salvationist James Allen (music arrangement)  and the Western Territorial MultiMedia Department (Media production)
1. Great is The Faithfulness
http://sadropbox.com/dropbox.nsf/Media.xsp?action=openDocument&documentId=6032E30210B7250188257C7000816151
2. In The Love of Jesus
http://sadropbox.com/dropbox.nsf/Media.xsp?action=openDocument&documentId=F5D03C88E54B249F88257C0800711FA3
3. I'm In His Hands
http://sadropbox.com/dropbox.nsf/Media.xsp?action=openDocument&documentId=9A7BCD4B740FE93D88257C08007014E2
4. Amazing Grace
http://sadropbox.com/dropbox.nsf/Media.xsp?action=openDocument&documentId=E6F27E3A9FF6037E88257C7000744DA5
5. Give Thanks
http://sadropbox.com/dropbox.nsf/Media.xsp?action=openDocument&documentId=7F1FF713EE2FF88788257C67006BEFCF
6. Away in a Manger
http://sadropbox.com/dropbox.nsf/Media.xsp?action=openDocument&documentId=1FFABE942F9218B888257C1600552CA0
7. Silent Night
http://sadropbox.com/dropbox.nsf/Media.xsp?action=openDocument&documentId=168113B92BD07C7A88257C16005596B4
RELATED POSTS
Emblem of the Month (September)
Back to school means another program year is kicking off all around the territory. With Troops coming back, surely leaders' minds are actively brainstorming which emblems to work...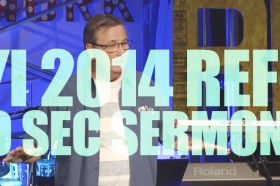 50 Sec Sermon 2 WYI 2014
Here's another Sermon Clip from WYI 2014 REFINE! This one's from our very own Commissioner Jim Knaggs!