SAYNETWORK INSTAGRAM PHOTO CHALLENGE
SAYNETWORK INSTAGRAM PHOTO CHALLENGE
Miracle Photo Challenge
THQ-Youth is excited to announce the first ever SAYNETWORK Photo Challenge! The #miraclechallenge is an eight day challenge beginning on Palm Sunday (April 13) and ends on Resurrection Sunday (April 20). Complete the challenge by uploading a photo to Instagram of something that represents the hashtag or bible story given for each of the eight days. Each hashtag is based on a command given by Jesus during His miracles. Creativity is encouraged! Our hope is that this will serve as a unique way to reflect on the life of Jesus during Holy Week.
Be sure to use the daily hashtag in your description of the photo as well as #miracleschallenge. Complete all eight photo challenges and you will be entered into a drawing for a $20 gift card to PRINTSTAGRAM!!
HASTAG LIST AND TOPICS:
RELATED POSTS
Emblem of the Month (September)
Back to school means another program year is kicking off all around the territory. With Troops coming back, surely leaders' minds are actively brainstorming which emblems to work...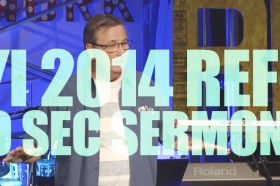 50 Sec Sermon 2 WYI 2014
Here's another Sermon Clip from WYI 2014 REFINE! This one's from our very own Commissioner Jim Knaggs!